"Six Factors to Consider Before Making Your Pick"
Steve is huge sports fan and loves NFL football most of all. His passion for Fantasy Football inspired him to write an article in the summer of 2009 detailing an approach that fellow enthusiasts can use to select the best players possible in their annual drafts. The text of the article is shown below.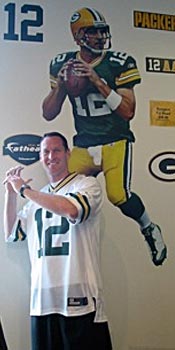 When draft time rolls around each year, I absolutely love watching ESPN's NFL previews, reading fantasy draft guides, and scouring the internet for the latest player profiles, position rankings, and team reports—anything to give me an edge on my competitors. After years of playing fantasy football, though, I realized that finding enough information is never the problem. It's knowing what to do with it. It's knowing how to sort through it, organize it, and use it to my greatest advantage. I reach a point in my annual research (usually around mid-August) when I no longer need to read about how good a player has looked over the summer or how well a team seems to be grasping its new offense.
I need information that directly relates to the decisions I will have to make in my draft. If I'm picking second this year, for example, I have to figure out whether to take Michael Turner, Maurice Jones-Drew or somebody else. I must determine which player to choose and why. In short, I need a quick, reliable way to assess the players that are likely to be available when I'm drafting. After years of looking for this type of user-friendly evaluation system, I created my own and have used it successfully in recent seasons. (Predicting DeAngelo Williams' breakout season was last year's highlight.) I now share with you six factors to consider when deciding between comparable players at the same position.
As I describe these factors, I will put this approach into action and demonstrate its value with a scenario that those of you picking fourth in your upcoming drafts may encounter. Assume Adrian Peterson, Turner, and Jones-Drew are the first three players selected, and you're torn between LaDainian Tomlinson and Matt Forte. Remember, much of your life happiness over the next four months hinges on this decision, so be sure to consider each factor carefully. Keep in mind that no magic formula exists as to how we should weigh these factors. We simply see how our players match up head-to-head with regard to each one, and our judgment will tell us which call to make.
1) History of Success
While expecting that a player who put up huge numbers last year will automatically do the same this year is the #1 cardinal sin of fantasy football, past performance is the most powerful predictor of future success. Why is Adrian Peterson the number one ranked back on most draft lists? It's because he has been so great since he first entered the league. The same goes for Tom Brady, Peyton Manning, Terrell Owens, and many others. This is hardly an earth-shattering proclamation.
Where this idea can help us, however, is when evaluating younger players. Sometimes, a rookie or second-year player receives so much hype that we can easily forget he's never before put up numbers over an entire season. Three years ago, for example, Ronnie Brown was in many people's top five, despite never having been an every-down back for a full season. The lesson behind Factor #1 is this: Be careful when you invest a pick, especially a high one, on a guy who has never produced at the level at which you are expecting him to produce. Before you pull the trigger on someone in the first couple rounds, ask yourself the following question: Does this guy have the track record to justify the financial and emotional investment I am about to make in him?
LT vs. Forte: In 2008 Forte had a very good rookie season, rushing for 1,238 yards and scoring a combined 12 touchdowns. Tomlinson is a Fantasy Football Hall of Famer. In his eight seasons he's rushed for 126 career touchdowns, caught 15, and even thrown for a few. Both players have succeeded as feature backs over the course of an entire season, but few can match LT's track record. Edge: Tomlinson.
2) Injury History
Injuries in the NFL are a fact of life and can never be predicted. Sometimes, players known for their durability, such as Tom Brady and Carson Palmer in 2008, go down the year you drafted them with precisely this factor in mind. It's frustrating, it's unfortunate, yet it's unavoidable. During our drafts, we don't know what will occur in the season ahead - we deal with likelihoods. After all, every draft pick is made based on what we think is likely to happen, not sure to happen. And let's face it, certain players have proven in the past to be more likely to get injured than others. Before you read on, close your eyes and see which names come to mind. The names Fred Taylor, Clinton Portis, Donovan McNabb, and Marc Bulger probably popped into your head because these players always seem to miss more than their fair share of games. When two players you're considering are otherwise evenly matched, it pays to take the more historically durable player.
LT vs. Forte: Matt Forte played in all 16 games last season, and Tomlinson has only missed one regular season game in eight years. Absolutely incredible. Though both players have an admirable record in this regard, durability has become a major concern with LT over the past two post-seasons and due to his recently having turned 30, the age that frequently signals the end of the line for most running backs. Edge: Forte.
3) Team Quality
Whereas the first two factors may be a bit on the obvious side, I find that the third one, Team Quality, generally receives far less attention than it deserves. Good teams almost always score more points than bad teams, and players on good teams usually put up bigger numbers than their counterparts on weaker teams. In 2007 was Frank Gore an inferior running back to Jamal Lewis? Not a chance. Gore scored fewer touchdowns than Lewis because the 49ers had tremendous difficulty moving the ball down the field and sustaining drives, resulting in fewer carries and fewer scoring opportunities. Lewis played on the playoff contending Browns that scored points and put him in situations where he could be successful.
The four teams that earned first-round byes in the playoffs last year were the Titans, Steelers, Giants, and Panthers. Not coincidentally, running backs Chris Johnson, LenDale White, Willie Parker, Brandon Jacobs, and DeAngelo Williams scored loads of touchdowns. These offenses stayed on the field, racked up yardage, and provided players with scoring chances that those on losing teams simply didn't have.
As I look at this year's lists, I marvel that some of the player rankings seem to ignore Team Quality completely. Recently, I noticed Chris Johnson ranked behind Frank Gore and Steve Slaton ranked behind Ronnie Brown, even though the 49ers are unlikely to match the offensive production of the Titans and the Dolphins are unlikely to move the ball as well as the Texans.
The lesson behind Factor #3 is this: When evaluating two players, we must remember that football isn't tennis or golf. We are not merely comparing Player A to Player B as individuals in isolation. We have to understand the bigger picture and look at the offenses within which players will have to operate. Before your draft, identify what you believe to be the five or six best teams with the most prolific offenses and be sure that the core of your team includes at least some players from this group.
LT vs. Forte: Tomlinson plays on a perennial Super Bowl contender, and it's tough to imagine the Chargers not putting up big offensive numbers or failing to make the playoffs out of the relatively weak AFC West. The Bears upgraded their quarterback situation significantly with the acquisition of Jay Cutler and have a good chance to make the playoffs. With largely unproven receivers, however, the Chicago offense can't be expected to match the output of the Chargers. Edge: Tomlinson.
4) Offensive Continuity
Another factor that takes into account the bigger picture and involves the circumstances surrounding a player is offensive continuity. Three years ago, Shaun Alexander was coming off a record-setting season and most draft services ranked him first among running backs. While it seemed safe at the time to expect Alexander to have another strong year, it is now obvious (hindsight is always 20/20) that the Seahawks of 2006 were not the Seahawks of 2005. Sure, their quarterback and receivers remained with the team, but All-Pro guard Steve Hutchinson signed as a free agent with the Vikings and left a huge void on the offensive line. Although the degree of Alexander's decline that year was shocking, one could foresee that Hutchinson's departure would have at least some impact.
Astute fantasy owners need to pay attention to major personnel changes that occur in the off-season. Of course, headline-grabbing free agent signings involving quarterbacks (Drew Brees three years ago) and running backs (Michael Turner two years ago) are easy to notice, but look below the surface as well. Did any other changes occur that are likely to alter the continuity of the team's offense from the year before, either positively or negatively? Did the team sign or lose any valuable linemen? Did the team draft or sign a running back that could eat into the carries of the guy you're thinking of drafting?
Beyond roster moves, pay equal attention to new head coaches and offensive coordinators and the impact they may have on their new teams. For example, is Todd Haley's arrival in Kansas City likely to increase Dwayne Bowe's numbers? By the same token, appreciate the coaching continuity of teams such as the Colts and the effect of that uncommon stability on player performance. Offensive continuity is probably the factor whose impact is most difficult to quantify, but it is absolutely something fantasy owners must consider.
LT vs. Forte: The Chargers and Bears both return the major pieces of their coaching staffs, but player personnel changes add a bit of uncertainty to the roles of Tomlinson and Forte. In the case of LT, San Diego signed Darren Sproles to big money and will likely increase his role, especially given the age of Tomlinson. The arrival of Jay Cutler in Chicago should mean more points for the Bears, but will this necessarily translate into greater production for Forte? Because he's such a capable receiver and because the Bears should visit the red zone more often, Forte's overall numbers are likely to improve, while Tomlinson's will most likely take a hit. Edge: Forte.
5) Schedule
We've all seen those tables in the back of fantasy football magazines showing which teams have the most difficult and easiest schedules heading into the coming season. Even though last year is not the same as this year, and even though last year's records will, of course, differ from this year's, these schedules are worth inspecting. If you're trying to decide between two running backs and one plays games out of the division against the strong defenses of the NFC East and AFC South for eight games while the other opposes the relatively easier defenses of the NFC West and the AFC West for eight, that's a potentially decisive factor right there. That's half the season. We may discover even more differences as we compare the two teams' schedules within their divisions or in their other games. The lesson behind Factor #5 is this: Dramatic differences in two teams' strength of schedule won't always exist, but when they do, be ready to take advantage of them.
LT vs. Forte: Interestingly, the Chargers and Bears both play the four teams of the difficult AFC North. The Chargers face a much easier division schedule, yet the Bears have an advantage playing the relatively weak NFC West while the Chargers must face the tough defenses of the NFC East. For their two remaining games, each team plays a second place schedule based on last year's division finish. Edge: Even.
6) Career Trajectory
Like Factor #3, Team Quality, I consider this final factor worthy of much greater attention than it typically receives. Career Trajectory refers to the point in a player's career where he currently finds himself. Ideally, we draft a player after he's been in the league long enough to learn the ropes, but before his skills have begun to decline or before age, injury, or wear and tear have taken their toll. In short, we want a player in his prime. Career Trajectory is most important to consider with running backs, whose careers are generally shorter than other positions'. enerally, we like a running a back to be in his third, fourth, or fifth year when we draft him, even though some, like Marshall Faulk and Thomas Jones, defy the odds and stay productive a while longer.
When fantasy owners err with running backs, it's usually because we draft them too late in their careers, though occasionally we pick them too early, before they have found their way or before they have won a starting job outright. In contrast, mistakes with quarterbacks and wide receivers frequently come because we select them too early. Conventional wisdom says that year three tends to be the breakthrough season for these positions, and while that's not always true, it's worth keeping in mind. Taking a rookie or second-year quarterback is almost always a mistake, as is taking an inexperienced receiver.
Arguably, the greatest fantasy football joy and satisfaction come when we draft a player during his breakout year, just as he enters his prime. Think Stephen Jackson in 2006, Greg Jennings in 2007, or DeAngelo Williams in 2008. What about 2009? Who might be the candidates to bust out this year, and whom might we be able to grab below the radar just as they enter the most productive part of their career trajectories? Dwayne Bowe is entering his third year with the Chiefs with a new head coach who knows how to feature his number one receiver. Kevin Smith begins his second year on what has to be an improved Lions' team. Chicago's Greg Olsen starts his third year with a new quarterback who may look to him frequently given the team's inexperienced wide receivers. Perhaps one of these three can put your team over the top this year.
LT vs. Forte: Ultimately, this is the decisive factor for me. Forte is entering his second year and doesn't have a tremendous amount of wear and tear on him. He should have a terrific season. I love Tomlinson, but he's beginning his ninth season, the team gave franchise money to his back-up, and age and injuries are becoming more of a concern. Maybe he will another great season, but he just seems to be on the wrong side of his career trajectory to be taken over a back like Forte.
Paying attention to these six factors as you evaluate prospective top draft picks gives you the best chance for a successful season. Best of luck this year.