The Ultimate Mystery Writing Course For Kids ($99)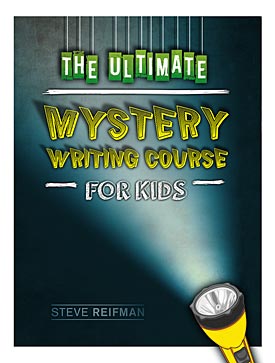 Enroll NOW in this course.
This course on Udemy.com is designed for children 8-12 years of age who are interested in writing their own mysteries. National Board Certified elementary school teacher and award-winning author Steve Reifman takes young writers step-by-step from the beginning of the writing process to the end and helps them craft stories that keep readers guessing and on the edge of their seats! It doesn't matter whether students are already seasoned mystery writers or brand new to the genre. This course promises to take children's writing skills to the next level.
The course features:
* Unprecedented flexibility and convenience. The course consists of short, easy-to-follow videos that students can watch and pause whenever they wish and re-watch as necessary. Kids learn at their own pace and complete the course anytime, anyplace.
* Detailed handouts that give students the support and information they need
* Quality instruction from a National Board Certified teacher and award-winning children's author about all the elements that make mysteries so much fun to read and write!
* Numerous examples from Steve's book Chase Against Time that demonstrate important teaching points
* A focus on valuable writing habits, such as perseverance, pride, and paying attention to detail
* An emphasis on enjoying the writing process and developing a passion for reading and writing
The course is divided into four sections.
I. Getting Started
1) What is a Mystery?
2) What is the Crime?
3) Who is the Crime Solver?
4) Collecting Seeds
5) Trying Out Our Ideas
6) Making the Choice

II.Bringing The Characters to Life
7) Three-Dimensional Bone Structure
8) Character Change
9) Character "Back Story"
10) Who Did It?
11) List of Suspects
12) Motives
13) Clues
14) Ruling Out Suspects

III. Adding Other Mystery Elements
15) Hiding Clues
16) Alibis
17) Witnesses
18) Red Herrings
19) Investigation Strategies
20) Setting

IV. Putting it All Together into a Story
21) Story Mountain
22) Chapter Plans
23) Drafting
24) Revising
25) Editing
26) Publishing
27) Reflecting & Celebrating

Note: The lessons in bold letters are essential to this mystery writing process. The other lessons are included to give children an extra challenge and provide them with a more complete writing experience.